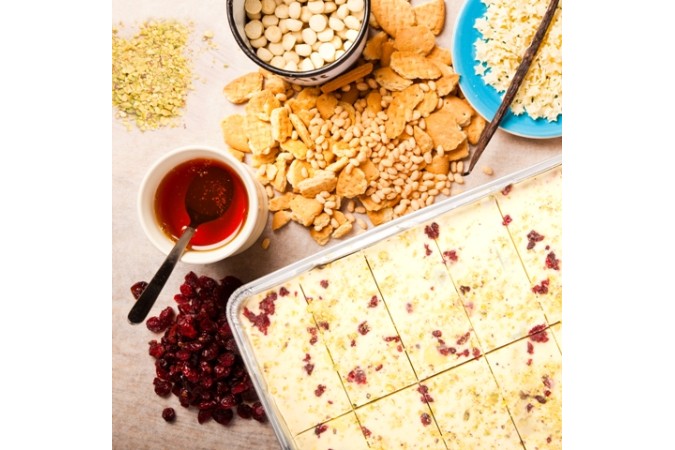 White Chocolate & Cranberry Tiffin
14 pre-cut portions
We enrobe biscuit, crisped rice and cranberries in luxurious white Belgian chocolate and top with more white chocolate and a pistachio dust.
Best before: Various dates June & July 2015

We're busy in the bakery making a new batch of these tasty bakes. Sign up for our Cake Alert to find out when they're fresh out of the oven.
Information
Product Info
Tray size: 18cm x 30cm
Portion size: 9cm x 4cm
Net weight: 1010g
Pre-cut portions: 14
Best eaten within: 3 days from defrost
Frozen shelf life: Min 6 months
Nutritional Data (per 100g)
Energy (KJ) per 100g: 2095
Calories (Kcal): 501
Carbohydrates (g): 57.2
- of which sugars (g): 48.4
Fat (g): 29.2
- of which saturates (g): 17.5
Ingredients
Ingredients:
Belgian white chocolate, unsalted butter, biscuit, golden syrup, sweetened dried cranberries, rice crisp, white chocolate stars, vanilla extract