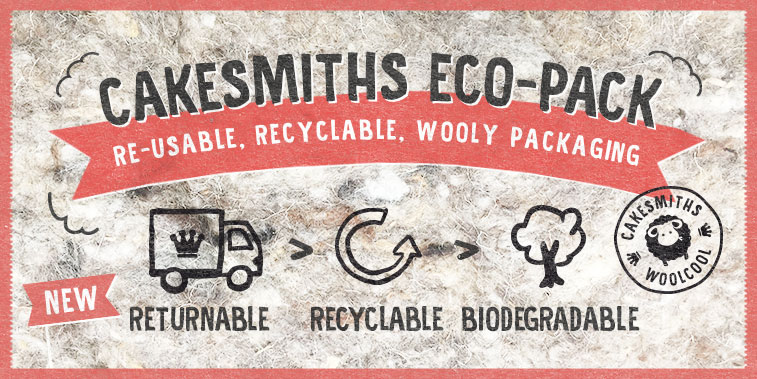 Ditching Poly for Dolly
We have taken great time and care in selecting packaging that works for both our products and the environment. Without further ado ~ let us introduce you to the New Cakesmiths Eco-Pack using industry leading Woolcool liners that are not only fully reusable and recyclable but biodegrade at the end of their useful life.
Woolcool – Wool is an amazing Smart Fibre: not only is it natural and sustainable, but is a superior insulator! Why compromise on sustainability or performance when you can have both?
Wool is one of the most sustainable natural materials, being available in abundance as a by-product of rearing sheep. The wool insulation is totally compostable and biodegradable, releasing valuable nitrates back into the soil.


Return:

To get the most out of this packaging we invite you to return your wool liners for FREE.
1, Tick the "I've got something to return box" during checkout and your new cake delivery will contain your return label.
2, Fill your old Cakesmiths box with liners (A minimum of at least 10 liners will be excepted.)
3, Tape the box when you can't get any more in!
4, Check the DPD website to find one of the nearest DPD pick up shops to return your box, www.dpd.co.uk 
5, Sit back and know that you have done a really good deed today!
We will even donate 1 slice of cake for every wool liner returned to The Grand Appeal. Please email support@cakesmiths.com to show your interest and we will update your account.

Reuse

Your imagination is the only limiting factor. Here are some of our thoughts... Hanging basket liners, line a rabbit hutch, stuff a pet bed or a cushion
or even use it to mulch plants!

Recycle

1. Separate the polyethylene wrap from the wool liner
2. The wrap is fully kerbside recyclable
3. Place the wool liner into the general waste where over a few months it
will biodegrade releasing valuable nitrates back into the soil.
Eco-Pack FAQ
WHERE DOES THE WOOL COME FROM?
We only use 100% sheep wool. As an ethical and environmentally responsible business, we are very sensitive to the welfare of animals and in particular sheep, from which our amazing, sustainable insulated packaging material is made. We have a lot to thank the Sheep for! Adult Sheep of breeds which have continuously growing wool need to be sheared for welfare reasons, a heavy fleece not only causes a sheep to overheat in the summer but can provide an ideal environment for parasites on the sheep. The RSPCA advise that sheep must be shorn at least once every year for their own health, to keep them comfortable and free from parasites. Shearing can only be carried out by a licensed shearer to ensure that the sheep is handled carefully. We do not use pulled wool.
Does Eco-Pack Smell Like Wool?
Questions around the smell are usually linked to worries about cleanliness and linking the smell to the toxins etc. Wool is washed and scoured to ISO standards to ensure cleanliness. Woolcool perform monthly tests to ensure it is completely clean and free of any toxins that can leach into food/pharmaceuticals. As with any material/object, man-made or natural, it has its own smell. Typically if the Wool has been stored with other wool, it will smell stronger, but once it has been taken out of the initial delivery box, that smell will dissipate. To remove the smell we would have to add chemicals, which would negate our natural product and could potentially damage the fibres. Of course, we love the smell, as what better way is there to prove our product is 100% natural!
HOW DOES WOOLCOOL KEEP CONTENTS COOL?
Wool fibres are incredibly effective at absorbing moisture from the air which minimises humidity and condensation to maintain stable temperatures. The recyclable food grade wrap which encloses the wool in Woolcool is micro-perforated to allow the fibres to breathe and create the natural cooling system. IS THE WOOL HYGIENIC? Yes, wool is perfectly safe. The natural washing and scouring process requires no chemicals, additives or further sterilisation. Wool fibres have been scientifically proven to absorb and lock in bacteria and dangerous chemicals. The wool is sealed within recyclable, food grade polyethylene wrap to prevent the fibres coming into direct contact with packaged contents.
DOES THE WOOL SMELL OR TAINT FOODSTUFFS?
No. After the natural washing and scouring process, the wool only has a similar smell to a new, pure wool jumper! It is also sealed within recyclable, food grade polyethylene wrap to prevent contents coming into direct contact with the wool fibres.
HOW MANY TIMES CAN WOOLCOOL BE RE-USED?
This depends on the condition of the Woolcool after use, for example, whether it has been ripped or if contents have spilled out or seeped into the insulation. If the Woolcool cannot be re-used as it is, the wool can be recycled and re-used or put to many good uses from lagging pipes to insulating garden plants from the frost!