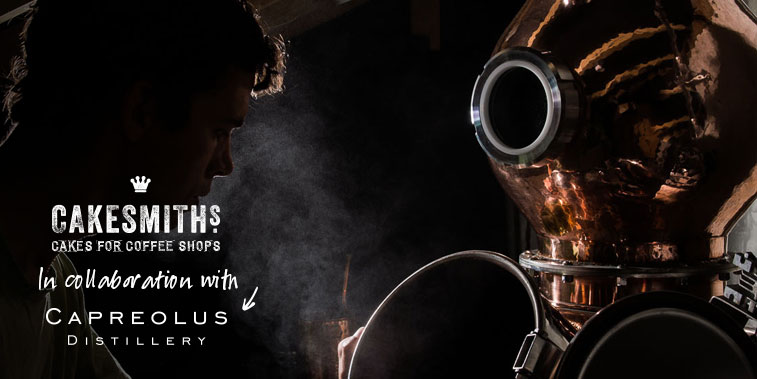 What better way to celebrate spring than with a fresh rhubarb and gin cake! There was a fair amount of development to perfectly balance the flavours in this cake. A good few rounds of tasting! - It was terrible "for the waistline". Mike our cake inventor who you will hear from shortly experimented with a wide range of ingredients, but in the end settled with a hint of orange, juniper in a semolina sponge.

Into the Kitchen:
The idea for this cake came about initially through rhubarb gin. The flavours of tart rhubarb and the bitter elements of gin work wonderfully together, especially when put together with something sweet. Baking gin into a sponge doesn't work. Practically all of the flavour is lost in the bake. Juniper being the predominant flavour in nearly all gins, juniper extract was the way to go. After trying many iterations with only the flavours of juniper and rhubarb, another flavour was needed. Orange blossom was the next port of call, however the intense perfume it gave the cake overshadowed the flavours of juniper and rhubarb within the cake.

Another idea was mint (a bit like a rhubarb Collins cocktail), however the flavours seemed a little confusing. The orange notes from the orange blossom however worked well in harmony with the rhubarb, and so whole orange was next to try. This was a success, however the chunks of rhubarb baked into the top just shrank back and didn't look their best. A rhubarb compote seemed like a good idea, to be rippled into the cake mixture. Again, this element seemed to work well, however the sponge seemed too light to hold this amount of rhubarb compote and whole orange, a denser sponge was needed. Ground almonds add a nutty, dense and moist element, mixed with the texture of fine semolina to give a dense yet very moist sponge.

Now onto the gin! As mentioned, originally the cake was born out of the idea of rhubarb gin, however with so much rhubarb in the cake already, perhaps the gin could bring its own flavour. As it happens, a friend of Cakesmiths owns a gin distillery. We love a good collaboration here at Cakesmiths, so this was a must. Infused with flavours of blood orange (to match the orange element of the cake) and spices, this seemed like a great match. It's a subtle drizzle of gin syrup over the cake, but it just pulls it together, bringing the rhubarb, juniper, orange and toasty almond flavours together.
Full of dusky spring and summer evening flavours, this is the perfect cake to have sat outside with a cup of tea (or of course a wonderful Garden Tiger G&T) as the sun begins to set.
Enjoy! ~ Mike The Cake Inventor
We are extremely fortunate that our graphic designers brother Barney just so happens to distill the very best gin known to man! Needless to say we have tried a few small glasses. We even spent an afternoon in the Cotswolds distilling the gin in the cake, it was an extremely interesting afternoon. The quality is so good the gin turns slightly cloudy when mixed with ice and tonic. We are told this is the oils in the botanicals solidifying as they are cooled. You should definitely give it a try!
Into The Distillery with Barney Wilczak:

The opportunity to work hand in hand with other producers who share the same attention to detail and passion for quality ingredients is a great pleasure. Our own production at the Capreolus Distillery follows a near obsessive focus on quality. Whether this is in producing our eaux de vie, fruit brandies that take 15-45kg of fruit to make just one litre of spirit, through to our Garden Tiger gin. Each ingredient is hand selected and prepared with respect.
Garden Tiger is distilled from a mix of 34 botanicals, home grown, wild and traded. From honey flavoured native lime flowers through herbs, spices, flowers and berries. Organic blood oranges carry through the nose; last Winter we zested 2.6 tons of these beautiful fruit, rejecting the lifeless dried peel used by so many. All of this is enclosed in UV proof bottles, with hand printed and applied labels, and cork drawn from the richly biodiverse forests of Portugal.

We have had the good fortune to have recognition heaped upon our small distillery. Garden Tiger was named as the Spirit of the Year 2017, a single product chosen from the panoply of gins, rums, vodkas, vermouths, etc.
And most surprising of all might be our location. Tucked away in my childhood home, all of these products are produced from two beautiful stills housed in the old lean-to greenhouse, a building built of Cotswold stone and overlooking the water meadows in the valley below. To see the result of Cakesmiths focus on balance and quality of ingredient has been wonderful, a perfect match for our Garden Tiger! Tea breaks are currently having an extra touch of luxury…!

Barney Wilczak
Distiller/Director – The Capreolus Distillery