After recently developing cakes based on unusual flavours such as cucumber and rosemary, we decided to take some inspiration from a classic flavour combination this month: Rhubarb and Custard. The end result? A beautifully summery Rhubarb and Custard Loaf Cake.  
As usual, our master cake inventor Mike spent many dedicated hours in the Innovation Kitchen perfecting the taste, texture and look of the new loaf. 
"I wanted to use only intensely pink rhubarb to get a gorgeous colour contrast between that and the yellow of the custard," says Mike. "We tried various combinations and toppings of rhubarb, alongside different colours, layers and flavours of custard."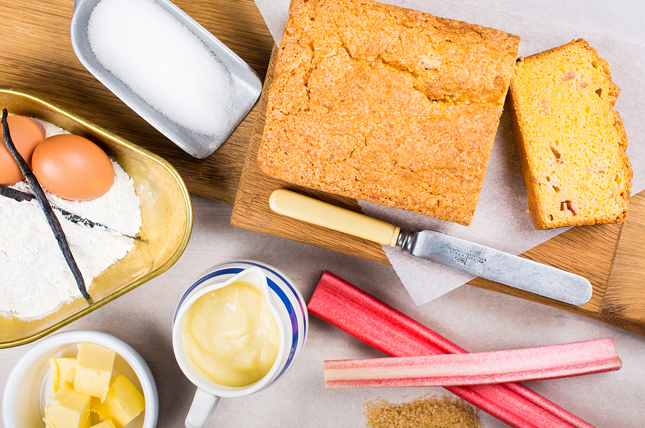 "Eventually the loaf that won was one of the simplest," continued Mike. "I found that finely slicing the rhubarb and including it throughout the entire cake worked best for both flavour distribution and look – with the pieces of rhubarb appearing to float in the sponge. A lovely sugar crust was created to top the loaf and we were there: Rhubarb and Custard Loaf Cake."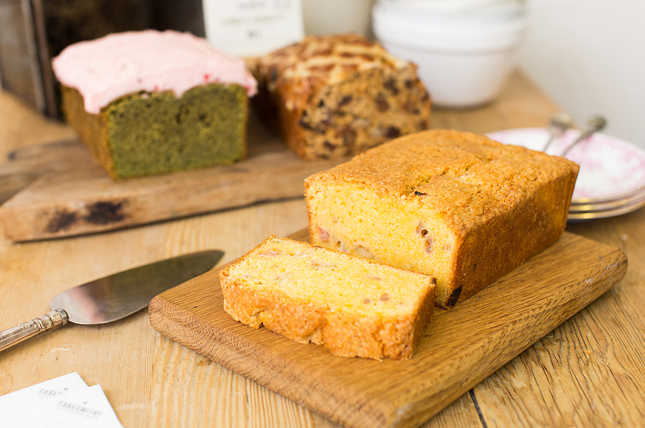 How about serving our Rhubarb and Custard Loaf Cake with a refreshing pink rhubarb still lemonade?
Ingredients
1kg of chopped rhubarb
600g of caster sugar
3 tablespoons of grated lemon zest
350ml of freshly squeezed lemon juice
4.25 litres of water
Method
1. Combine the rhubarb, sugar and grated lemon zest into a saucepan and bring to the boil. Simmer for about 10 minutes, until the sugar has dissolved and the rhubarb softens and releases its juice.
2. Remove from heat and stir in the lemon juice. Pour the rhubarb mixture through a fine sieve, pressing out as much liquid as possible.
3. To serve, mix the rhubarb syrup with 4.25 litres of water (250ml of syrup per 750ml of water) and pour over ice.

And finally:
Remember this? Roobarb & Custard theme tune.