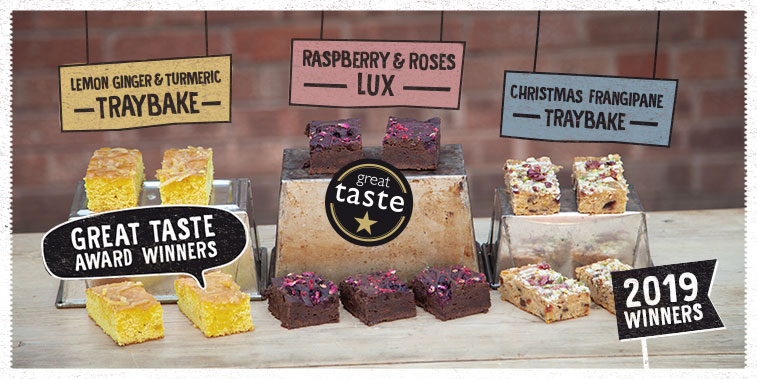 Cakesmiths have once again been celebrated for "Great Taste". We have only gone and picked up no less than 3 Great Taste Awards! Since 1994 The Guild of Fine Food has organised Great Taste to find the UK's most exquisite tasting food and drink. This year 10,000 products were entered then scrupulously judged on texture, appearance, quality ingredients and, above all, really great taste.

Lemon Ginger & Turmeric
The judges loved this punchy innovative cake! Here's what they said; Layers of lemon and ginger flavours followed by a lovely hint of the turmeric. The flavours gel perfectly giving depth, length and warmth. Nice crunch from the soak. The judges liked the lemon on the top. Rich and buttery. They really liked the recipe and think to get it to the next level it just needs whacking up the ginger, turmeric and slightly sharper lemon soak.

Raspberry & Roses
This little number had the judges intrigued, but was it make or break for the rosewater delight? There is interest in the description. Did we find some fun here? Well yes, the rosewater did bring some fun the party, the whole was not too sweet, the salt popped the flavour open. A fine product. This had a good fudgy texture and dense chocolate flavour. The raspberry added welcome hits of acidity, all in all though, this is a well-made brownie.

Christmas Frangipane
This seasonal triumph is a winner for coffee shops and a winner for judges! A pretty cake with a vibrant decoration of pistachios and cranberry. The rustic, homemade appearance is attractive. A pleasing aroma of marzipan. Tabe 2; A generously fruited and generously finished cake with a pleasingly moist texture. It's not over-baked, the colour is good and the flavour of the fruit and booze come through distinctly. The frangipane is almondy without being 'almond flavoured' in a negative way. A moreish thing, well-balanced flavour profile and good natural almond flavour. Successful.